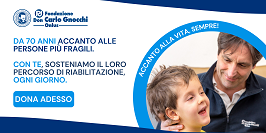 Databases
Services
Submit
Restricted area
Clemente C
Modifiche ambientali ed ausili: complici di una migliore qualità di vita. Il caso di Andrea.
Editorial data:
Tesi Corso di Perfezionamento "Tecnologie per l'Autonomia". Università Cattolica e Fondazione Don Gnocchi, a.a. 2006-2007
Abstract:
(text automatically translated from Italian) Andrea and its family lives to the Association of Bologna of one house of property, in the city center of a great city of the south Italy. Andrea is a..
Year of publication:
2008
Type of document:
Thesis
Last update:
February 2008