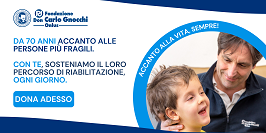 Databases
Services
Submit
Restricted area
Castellano G
Alessio, 33 years old. Autonomy in daily life for a person with spastic quadriplegia.
Editorial data:
Portale SIVA Fondazione Don Carlo Gnocchi Onlus
Abstract:
Alessio is a young man aged 33 with severe spastic quadriplegia, expressive aphasia, nystagmus, as results of a perinatal damage. This study aims to document the path of Alessio and of team of..
Year of publication:
2006
Type of document:
Case studies/experiences
Last update:
July 2011
Leonzio M
Augmentative and alternative communication in autism
Editorial data:
Tesi Corso di Perfezionamento "Tecnologie per l'Autonomia". Università Cattolica Milano e Fondazione Don Gnocchi, a.a. 2011-2012
Abstract:
Autism is characterized by impaired communication: appropriate AAC interventions, based on visual and technological aids, can strongly improve functional abilities and social interaction.
Year of publication:
2012
Type of document:
Thesis
Last update:
December 2012