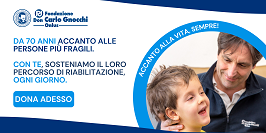 Databases
Services
Submit
Restricted area
Andrich R, Gower V, Milo A,
Albert, age 23: autonomy in writing and communicating
Editorial data:
Portale SIVA Fondazione Don Gnocchi - Banca Dati dei Casi di Studio
Abstract:
Alberto is a young man with a complex clinical situation. During the rehabilitation program at our center we worked at meeting his main needs related to mobility, writing, communication and..
Year of publication:
2015
Type of document:
Case studies/experiences
Last update:
March 2016
Leonzio M
Augmentative and alternative communication in autism
Editorial data:
Tesi Corso di Perfezionamento "Tecnologie per l'Autonomia". Università Cattolica Milano e Fondazione Don Gnocchi, a.a. 2011-2012
Abstract:
Autism is characterized by impaired communication: appropriate AAC interventions, based on visual and technological aids, can strongly improve functional abilities and social interaction.
Year of publication:
2012
Type of document:
Thesis
Last update:
December 2012