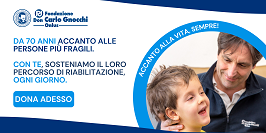 Databases
Services
Submit
Restricted area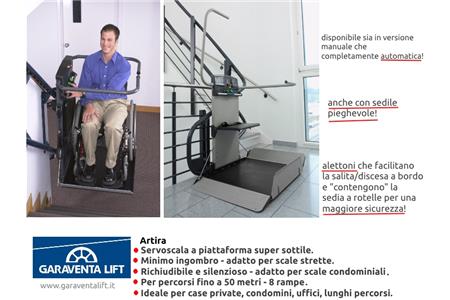 Stairlifts with platform (ISO 18.30.11)
Stairlifts with a platform (SIVA 18.30.11.S01)
Record number: 14812
Last update: May 2018
Brand: GARAVENTA LIFT
Model: ARTIRA SERVOSCALA A PIATTAFORMA
Children's version available
Technical details:
ENERGY TYPE
Mains electric.
STORAGE - TRANSPORT
Foldable.

Available sizes:
CAPACITY / RANGE
Lifting capacity (kg): 250.
Power (watt): 230.
ENVIRONMENT / ACCESS DIMENSIONS
Max. Gradient / Slope (%): 72.
Description:
(text automatically translated from Italian) Applicable ***E' on whichever type of scale, also winding. The movement with changes of slope and positive and negative curves allows. Suitable for the transport of the persons in wheelchair; it is possible but to install on the vehicle a foldable seat for the transport of persons seated. The system to towing is placed to the advanced extremity of the guides and the transmission of the motion to the platform happens through two distinguished ropes.
Further info

Italian provinces with self-declared local suppliers: