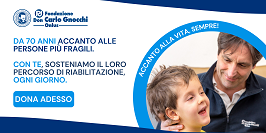 Databases
Services
Submit
Restricted area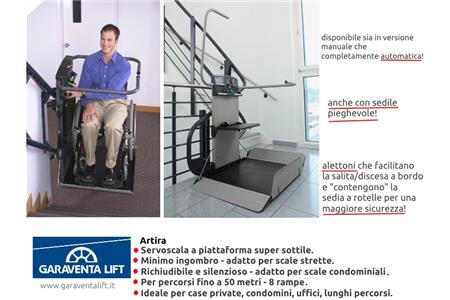 Stairlifts with platform (ISO 18.30.11)
Stairlifts with a platform (SIVA 18.30.11.S01)
Record number: 15973
Last update: May 2018
Brand: GARAVENTA LIFT
Model: ARTIRA - SERVOSCALA A SEDILE RIBALTABILE
Children's version available
Technical details:
ENERGY TYPE
Mains electric.
STORAGE - TRANSPORT
Foldable.

Available sizes:
CAPACITY / RANGE
Lifting capacity (kg): 250.
Power (watt): 230.
ENVIRONMENT / ACCESS DIMENSIONS
Max. Gradient / Slope (%): 68.
Description:
The Artira stairlift can be equipped with a folding seat that can be used to transport people who do not use a wheelchair but who have difficulty walking or for those with diseases that, over time, cause a gradual loss of walking ability.
Italian provinces with self-declared local suppliers: